Couchsurfing is a global community that prioritizes diversity and equality. We ask that all members contribute to Couchsurfing by setting up either a monthly or annual Contribution subscription; however, due to differences in banking and the availability of credit cards in some parts of the world, we understand that this is not always possible. As such, select countries will see a "Couchsurfing Free" option upon signing up, which will allow them to access the platform for free with 10 introductions per week. At any time, members from these countries are able to upgrade their account to a monthly or annual Contribution subscription, which will unlock unlimited messages and introductions. Subscription and price options differ globally for a variety of reasons ranging from the availability of payment providers, currencies, and local regulations and restrictions. You can always view and manage your subscription through Account Settings.
New members will be given the option to choose their subscription preference in the initial sign-up flow. 
Existing members can change their plan at any time by going to Account Settings > Membership & Subscriptions > Membership Status > Subscribe.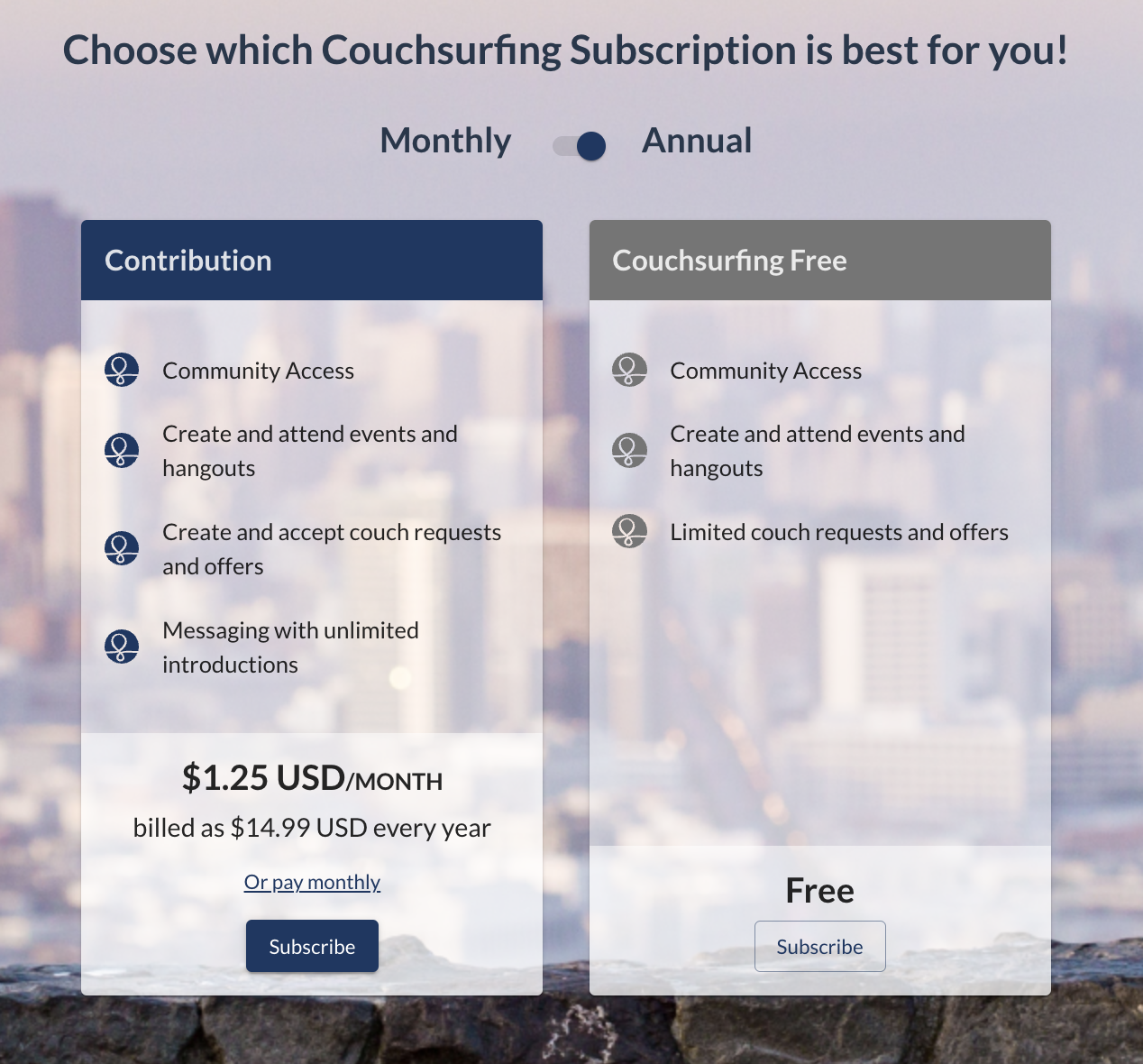 Couchsurfing Free is only available in select countries where the majority of the population does not have access to a banking system and/or credit cards. Contributions are the main revenue source for Couchsurfing and it is how Couchsurfing continues to grow and improve the platform. It also allows us to offer Couchsurfing Free in countries that otherwise would not be able to participate. We deeply appreciate your continued support of Couchsurfing and your commitment to sharing your life with locals and travelers alike.
Note: Inputting incorrect location information is considered a violation of our Terms of Use and may result in permanent account removal.