Surf & Host References 
Only members with Confirmed couchrequests between them can leave Surf/Host references for each other. Starting on the last day of your stay or hosting experience, we'll send you an email and dashboard notification giving you the ability to leave a Surf or Host reference. To leave a reference, follow these steps: 
Go to your Dashboard's To-Do list. If it has been less than 14 days after your Couchrequest ended, you will see a dialogue box that says "How was Sonja's stay with you?"
Choose whether you would recommend this host or guest. Click "Yes" if you would recommend the host or surfer,, "No" if you would not recommend the host or surfer, and "Sonja didn't stay with me" if you never met this person. If you select "Sonja didn't stay with me" you will be taken to a page where you can choose the option that best describes why you didn't get to meet Sonja. 
Choose tags. Select feedback tags that best describe your stay with this person, then click "Submit". Learn more about how feedback works here. 
Write your reference. Keep in mind references cannot be edited once they are submitted...be sure to read yours over before submitting! Guest and Host references will not be shared with the other member or posted on their profile until they have left you a reference OR the 14 day period has expired. 
Personal References
Members can always leave Personal references for other members. To leave a reference, you will need to visit the other member's profile. Once there, click the "More" button on their profile and select the "Write Reference" option.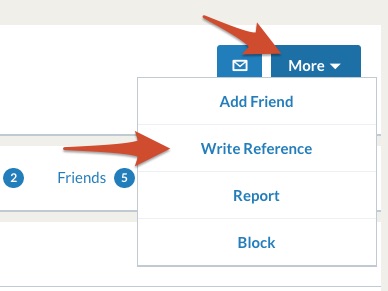 Learn more about the difference between Surf/Host references and Personal references in this FAQ article.