About Profile Completeness:
The Profile Completeness scoring system is designed to ensure that all members fill out their profile before looking for a host on Couchsurfing. It's important for your future hosts and guests to know who they will be inviting into their home, or who they will be staying with. For every action new members take to improve their profile, they receive a higher score, allowing them greater access to the entire Couchsurfing website.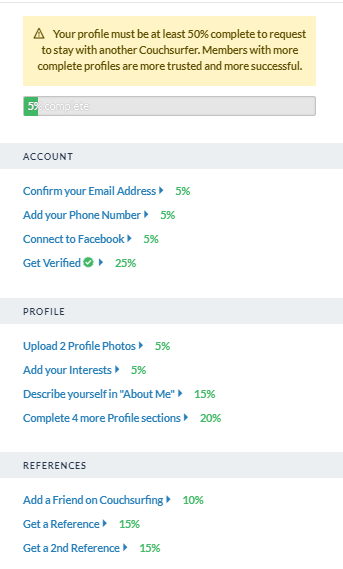 How do I complete my profile?
Confirm your email address and add a profile photo. These two steps are required before you can do pretty much anything on the website, including request a host, attend an event, offer to host, or comment on a group thread or local discussion post. You can confirm your email by following these steps. Help with uploading photos on your web browser or mobile device can be found here and here.
Add your phone number. Adding your phone number is an important Safety step to insure that we can contact you in case of an emergency.
Connect to Facebook. Connect to Facebook to find people in your network who are also on couchsurfing. You can connect your Facebook account on the Social Networks page.
Get Verified. Verify your address, phone number, and bank account to help confirm your identity. You will also no longer see ads and your profile will be highlighted in search results.
Upload an additional profile photo. Upload a total of two profile photos to get points for profile photos. To show the community who you are, be sure to upload photos that clearly show your face, so that your future guests and hosts know who to expect.
Fill in your profile. Take some time to fill out every section of your profile. This is what people will read to get to know you, so take extra time to make it shine! You'll get extra points for filling out your About Me and Interests sections.
Add friends on Couchsurfing. Find people in your existing networks that are an Couchsurfing, and add them as a friend. This will help other Couchsurfing members learn how you are connected to the community, and who you've already met on Couchsurfing.
Get References. The reference system is one of the most important features members use when deciding whether they want to stay with you or host you. Be sure to leave references for your hosts and guests so that other members in the community know what to expect when they stay with that member.
If you're new to the community, you can ask people in your network that are already on Couchsurfing to leave you a Personal reference. If you don't know anyone on Couchsurfing, you can attend local events to get to know the community and build up your Couchsurfing reputation.
Update on October 26, 2016:
In order to improve the quality of profiles across the site, we've update the scoring for "completeness" of your Couchsurfing profile, and you may have seen your Profile Completeness score change.
If your percentage has dropped, you should see a list of the steps you can take to make your profile fully complete. For example, you can add your interests to your profile, or ask a friend in the Couchsurfing community to leave you a Personal reference. Read more about this update.
If your score has dropped in such a way that you are no longer able to take actions you've taken before, you'll have two weeks to update your profile before these restrictions go into effect.